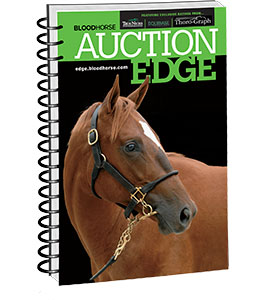 Comprehensive Stats
BloodHorse Auction Edge is an exclusive collection of information, including complete racing and sales histories through a sale horse's second dam. There's no other sales guide like it.
Complete History
Determine a sale horse's potential as a racehorse and its value in the marketplace. For every runner in a family, you'll get:
Conditions, track surface, and value of the best race run
Equibase Speed Figures and Thoro-Graph Ratings
Stud fees for the sire, sire auction averages, expanded nicking information, dosage indices, and more
What's Inside
See sample Auction Edge pages.
Easy-to-Use
Our easy-to-read format allows you to navigate page after page of the industry's most comprehensive sales tool.
Money Back Guarantee
If you don't like what you see, just return your copy to us and we'll give you your money back.
Questions or Advertising Inquiries
Call Catherine Johnston at 859.276.6812 or email cjohnston@bloodhorse.com