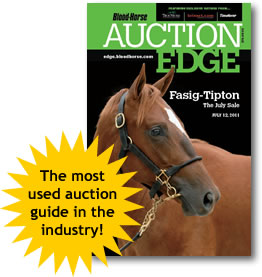 An Audience of Serious Buyers
Auction Edge users aren't your typical "window shoppers."
They are a select group of highly-engaged, "cream of the crop" industry professionals that compete at the top level of the game. They rely on Auction Edge as an essential resource when preparing for the most important sales occurring in the Thoroughbred industry.
Auction Edge users depend on the essential hip-by-hip entries that include stud fees, breeder information, complete produce records for 1st and 2nd dams, racing and sales histories, TrueNicks ratings, Equibase Speed Figures and Thoro-Graph Ratings, dosage information, and catalogue-style sire index. The easy-to-read, organized format of Auction Edge keeps users coming back again and again. When you need to get your company's message in front of the key players, you need to advertise in Auction Edge.
Targeted Packages! Affordable Rates!
Unlike other buyer's guides, the Auction Edge offers you complete flexibility for your advertising campaign, allowing you to run change the copy of your ad at key points in the year to keep your message fresh and rosters up-to-date!
Reach the Thoroughbred industry's most serious buyers at every major sale in the US
Target audience of yearling buyers, 2-year-old buyers, and mixed sale buyers
Adjust your ad for different editions all year long – at no cost!
Create your own advertising campaign
Advertising pages available as low as $125!
Ads available by the series, by the sale or by the book
Call your advertising rep today to create your customized package for the next sale!
Contact us directly by clicking here!
1-800-866-2361
advertise@bloodhorse.com